The Beehive Buzzz Party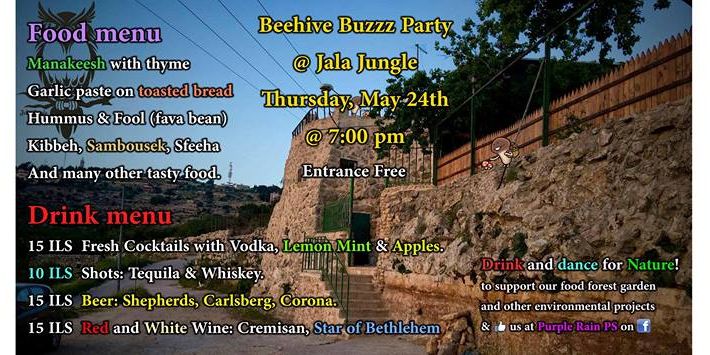 ‏‎Purple Rain PS, Bethlehem, Bethlehem
What's the buzzzz everybody??

Well, we've been busy little bees, preparing for you our second big party event! This time it will be at Jala Jungle, in Beit Jala!

We'll start the party off with a dinner, starting at 7pm if you'd like to join us,

Food Menu:
Manakeesh with thyme, Garlic Paste on toasted bread, Hummus and fool, Kibbeh, Sambousek, Sfeeha, and many other tasty foods!

Drink Menu:
Beers; Corona Shepherds, Carlsberg (15 ILS)
Shots: Tequila, Whiskey (10 ILS)
Fresh Cocktails with Vodka: Lemon Mint and Apple (15 ILS)
Red and White wine (15 ILS)

And this time... NO Entrance fee :)

This is a "Drink and Dance for Nature!" event! ;p
It means... dancing, drinking... like you can't find anywhere else..
With prices for drinks so low, and going to benefit our food forest garden and other environmental projects, it's a win-win for us, and Nature!